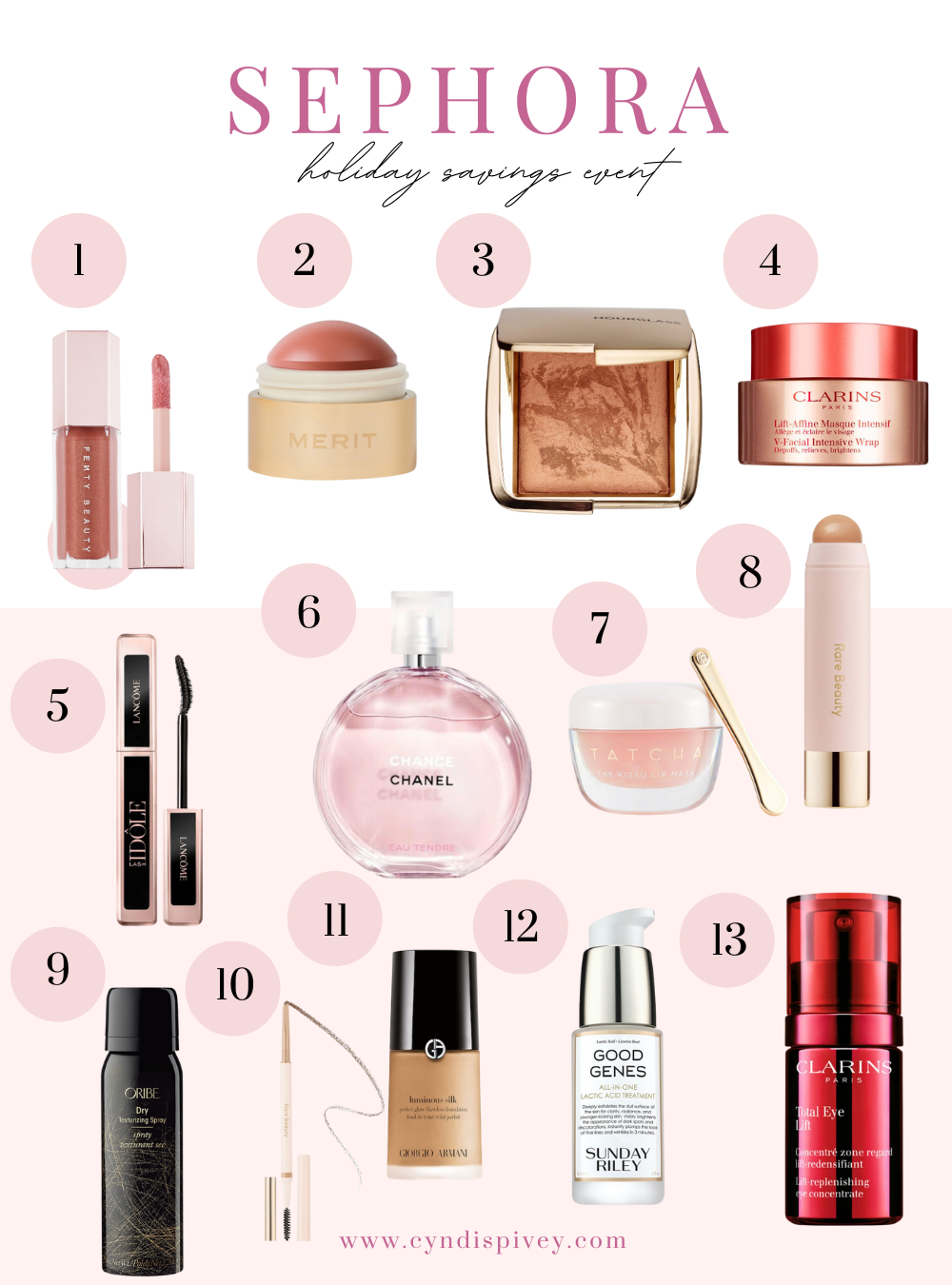 Happy Friday, Friends! If you love beauty products, you might want to check out the Sephora Savings Event. There are 3 savings, Rouge members save 20%, VIB members save 15%, and Insiders save 10%, plus 30% off the entire Sephora Collection for all levels.
Click HERE to see what level you are at Sephora. If you're not a beauty insider, you can sign up here and unlock 10% off your purchases during the sale.
Here are some of my picks, I've used them all except the Clarins Total Eye Lift. I've heard good things about it and would love to try it.
Sephora Savings Event
1. Gloss Bomb Universal Lip Luminizer / 2. MERIT Flush Balm Cream Blush / 3. Hourglass Ambient Lighting Bronzer / 4. Clarins V-Facial Instant Depuffing Face Mask / 5. Lancôme Lash Idôle Lengthening & Volumizing Mascara / 6. CHANEL CHANCE EAU TENDRE Eau de Toilette / 7. Tatcha The Kissu Lip Mask / 8. Rare Beauty Bronzer Stick / 9. Oribe Dry Texturizing Spray / 10. Rare Beauty Precision Eyebrow Pencil /11. Armani Beauty Luminous Silk Perfect Glow Flawless Oil-Free Foundation / 12. Sunday RileyGood Genes All-In-One AHA Lactic Acid Treatment / 13. Clarins Total Eye Lift Firming & Smoothing Anti-Aging Eye Cream
One of the best things about the Sephora Beauty Event is every Insider member saves 30% off all Sephora Collection products.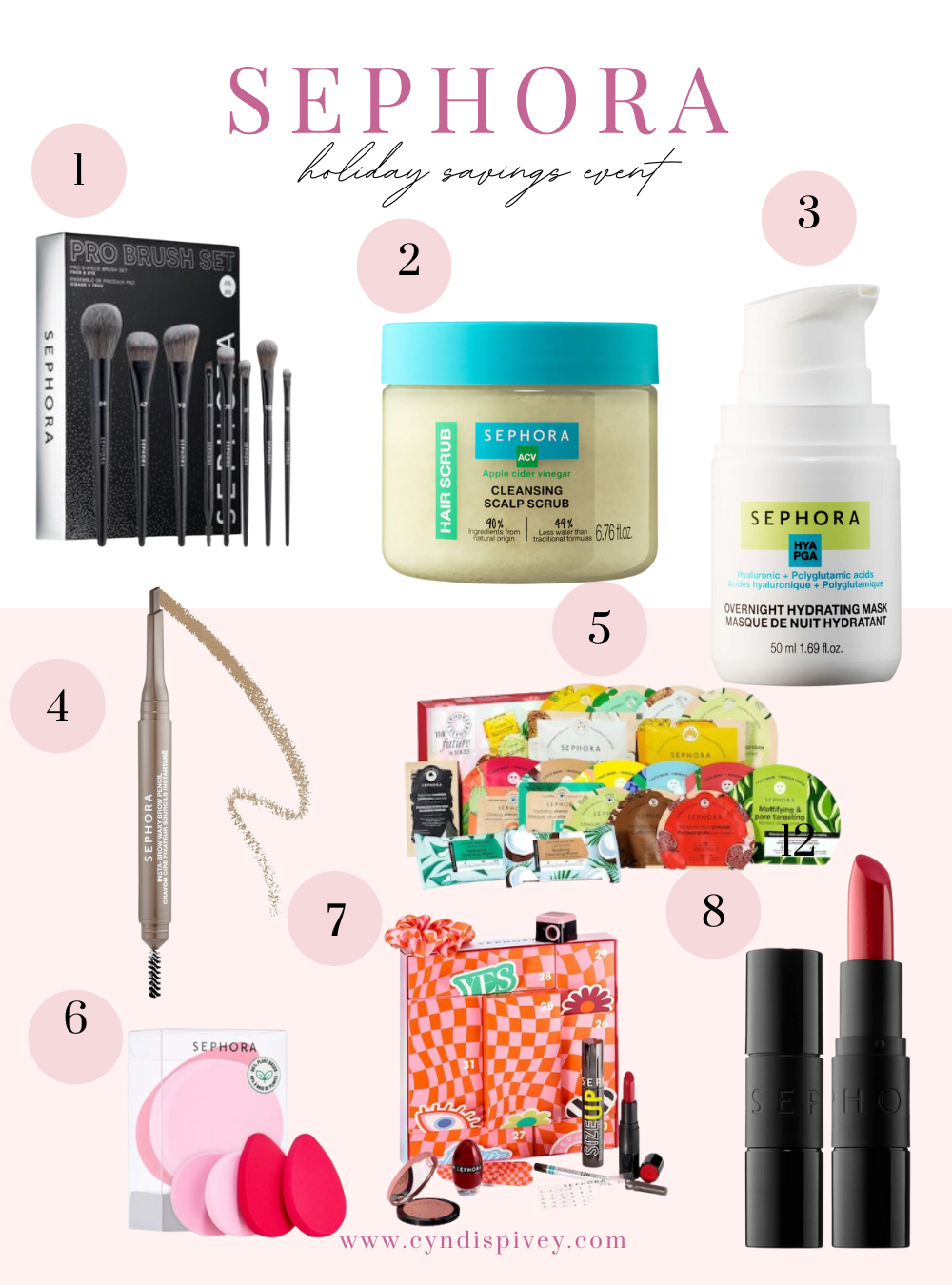 1. SEPHORA COLLECTION PRO 8-Piece Face & Eye Brush Set / 2. SEPHORA COLLECTION Apple Cider Vinegar Cleansing Scalp Scrub / 3. SEPHORA COLLECTION Overnight Hydrating Mask / 4. SEPHORA COLLECTION Insta-Brow Waxy Brow Pencil /5. SEPHORA COLLECTION Holy Sheet Mask Set / 6/ SEPHORA COLLECTION Total Coverage Blending Sponge Set / 7. SEPHORA COLLECTION After Advent Calendar / 8. SEPHORA COLLECTION Satin Hydrating Lipstick
Whether you're Christmas shopping or grabbing something for yourself, this Sephora sale is a great time to stock up on your favorites.
Thank you for taking the time out of your day to stop by my blog. I'm also on Facebook, Pinterest, and Instagram.
Beauty For the Heart

–What would we do if we knew tomorrow isn't promised? Who would we forgive if we didn't know what the future held? How much more grace would we offer if we knew everyone was fighting a battle? What would we be willing to give if we knew we don't get to keep anything when we go?
Tomorrow isn't promised. We don't know the future. Everyone is fighting a battle. Everything fades.
So…How will we live? @cleerelystated
Let your beauty shine from the inside out!
*Disclosure: The links in this post are affiliate links, meaning I will earn a commission if you click through and make a purchase at no additional cost to you. Thank you so much for your support!
The post Sephora Savings Event appeared first on Cyndi Spivey.
Disclaimer: This story is auto-aggregated by a computer program and has not been created or edited by Jenner Trends.
Publisher: Cyndi